Palm Oil Matters to Indonesia's Economy
WHAT would the Indonesian economy be without palm oil?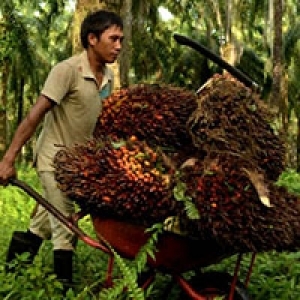 IN PARTICULAR, Indonesia's economy is largely driven by agriculture sector which has contributed such a large share to Indonesia's export earnings. Agriculture is a key sector which contributed to GDP more than oil and gas export. Indonesia is also one of the world's largest producers and exporters of crops such as rubber, copra, palm kernels, palm oil, coffee, cocoa, and spices.
Of 15 major agriculture commodities in Indonesia, oil palm seems is the largest one. Palm oil production is vital to the economy as Indonesia which is the world's biggest producer and consumer of the commodity, providing about half of the world's supply.
Palm oil emerged as the largest foreign exchange contributor, generated Rp287 trillion in foreign exchange from palm oil exports in 2017. The export volume of Indonesian palm oil, both in the form of CPO, PKO, and derivative products, including oleochemicals and biodiesel, reached 16.6 million tons.
Contribution of palm oil came from plantations managed by smallholders covering an area of 14.03 million hectares. Smallholders account for about 40% of palm oil production, making smallholders significant contributors towards a sustainable oil palm industry in Indonesia.
It also supports millions of jobs and opportunities for rural farmers. By one estimate, more than 5.5 million people works in plantations sector, while more than 12 million people work in services and off farm sector. It means more than 17 million people in Indonesia make a living from palm oil
It goes without saying if President Jokowi intensifies efforts to promote sustainable palm oil. Recently, on a state visit to New Zealand, Jokowi reaffirmed that about 17 million Indonesian make a living from palm oil, three times of the population of New Zealand. Half of the plantations are owned by smallholders
Palm oil production has contributed to economic benefits such as government revenues, profits for companies, employment, and raised incomes for smallholders. Riau province, for example, about 39.31 percent of its economy depends on palm oil. About 167 of 219 companies in the food industry in Riau use palm oil products, empolying 43,395 workers or about 70.60 percent of the total workforce in Riau. This picture shows how strategic palm oil for Indonesia. ***