Millennials in Malang Show Enthusiasm on Palm Oil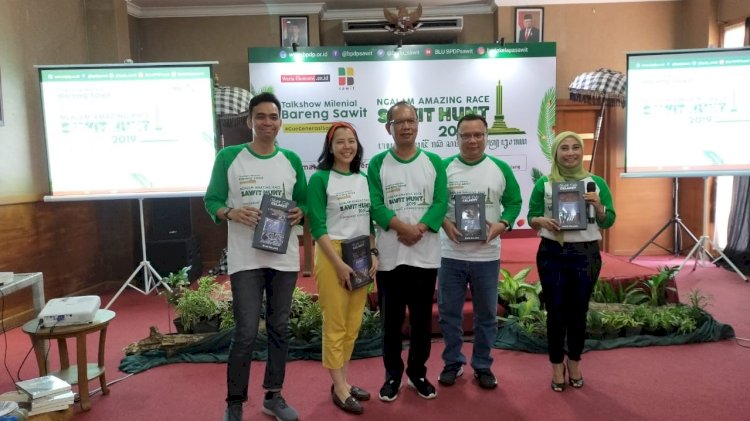 MALANG---Successfully held in Jakarta, Bogor, Surabaya, Yogyakarta, Makassar, and Bali, Talk Show Milenial on Palm Oil was held again. This time, the activities that bring together young people with the stakeholders of palm oil was held in Malang, East Java, (19/11/2019).
The event, packed in the Ngalam Amazing Race Sawit Hunt 2019, was organized by the Indonesia Oil Palm Plantations Fund Management Agency (BPDPKS) in collaboration with Warta Ekonomi magazine. Attendees at the meeting included Head of Corporate Communications Sinar Mas Agribusiness and Food, Dian Wulan P. S. Murniadi and Owner PT Afforneo Jaya, Nurlinda Dwi Sukti.
Hundreds of students and students from Malang and surrounding areas enthusiastically participated in special activities to share knowledge about sustainable palm oil. "We are happy to see young people enthusiastic about this event. They also happy to get a lot of knowledge about palm oil, " BPDPKS's Corporate Secretary Achmad Maulizal Sutawijaya said.
During the event, various aspects of sustainable palm oil are presented. From plantation, processing, to environment related as well as palm oil as a source of sustainable energy. Many of the participants were not yet aware of the potential contained in palm oil. Even new ones realize that palm can be processed into fuel to run the vehicle. "They know there is a fuel called biodiesel, but many are not aware that biodiesel used in Indonesia is generated from palm oil," Maulizal said. Other sources also explain the derivative products of palm oil and various products using palm oil.
Participants get explanation about palm content in daily products that are often found. For example in cosmetics, hygiene products such as soap and shampoo, and others. In order to enliven the event, in addition to talkshow, this activity is also enliven with fun games related to Palm and Instagram photo competition. ***