INDONESIA'S palm oil plantation and processing industry is is projected to continue growing in the near future. CPO production in Indonesia is estimated to reach 60 million tons by 2030 (Ministry of Agriculture, 2015). The direct employment in oil palm plantations reaches approximately 5.67 million people and the indirect employment reaches up to 11 million households or equivalent to over 44 million people.
The productivity of Indonesian palm farmers is low, ranging from 2-3 ton/hectare/year (old crops and plantations using illegitimate seeds), much below private-owned plantations (5-6 ton/hectare/year). This results in lack of income for the farmers and thus leads to the farmer's welfare lowering. The low productivity of smallholder's plantation is due to the fact that the smallholders have little knowledge, skills, and the capability to manage plantations.
In order to increase the productivity to reach the CPO production target, the country needs human resources. Skilled labors or human resources in palm plantations are urgently needed. Good management of smallholder plantations requires food institutional governance, which requires competent human resources. In order to prepare competent human resources, support from the government, companies and other related parties will be needed.
The development of human resources is done through counseling, education, training, supervising and facilitating; as mentioned in the Presidential Decree no. 61/2015 on the Collection and Use of Palm Plantation Funds. The development aims to improve the knowledge, skills, professionalism, independence and dedication of planters, assistants, and other palm plantation communities.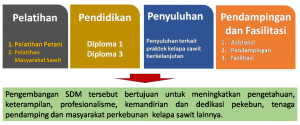 Figure 1: Support on Oil Palm Human Resources Assistance Program
The previous human resources development program has trained around 6.000 planters/palm plantation communities, focusing on plantation revitalization, productivity improvement, and business sustainability. Education Scholarships, D1 and D3 scholarship programs, have also been awarded to 720 planters' children.
In 2017 the Directorate General of Plantation of the Ministry of Agriculture issued the Director General of Plantation Decree no. 29/KPTS/KB.120/3/2017 on the Guide on Palm Trees Revitalization, Human Resource Development and Facilities and Infrastructure Provision for Palm Plantation Funding Agency's Funding Framework. In its execution, BPDPKS will receive technical recommendations from the Director General of Plantation regarding the institutions and planters who will receive the training. Necessary regulations including Training Modules for Planters Training program are being prepared and planned to be completed by 2018. ***