Rail Test Successfully Completed, B20 Safe for Locomotive
THE government has completed rail test of B20 performance on locomotives.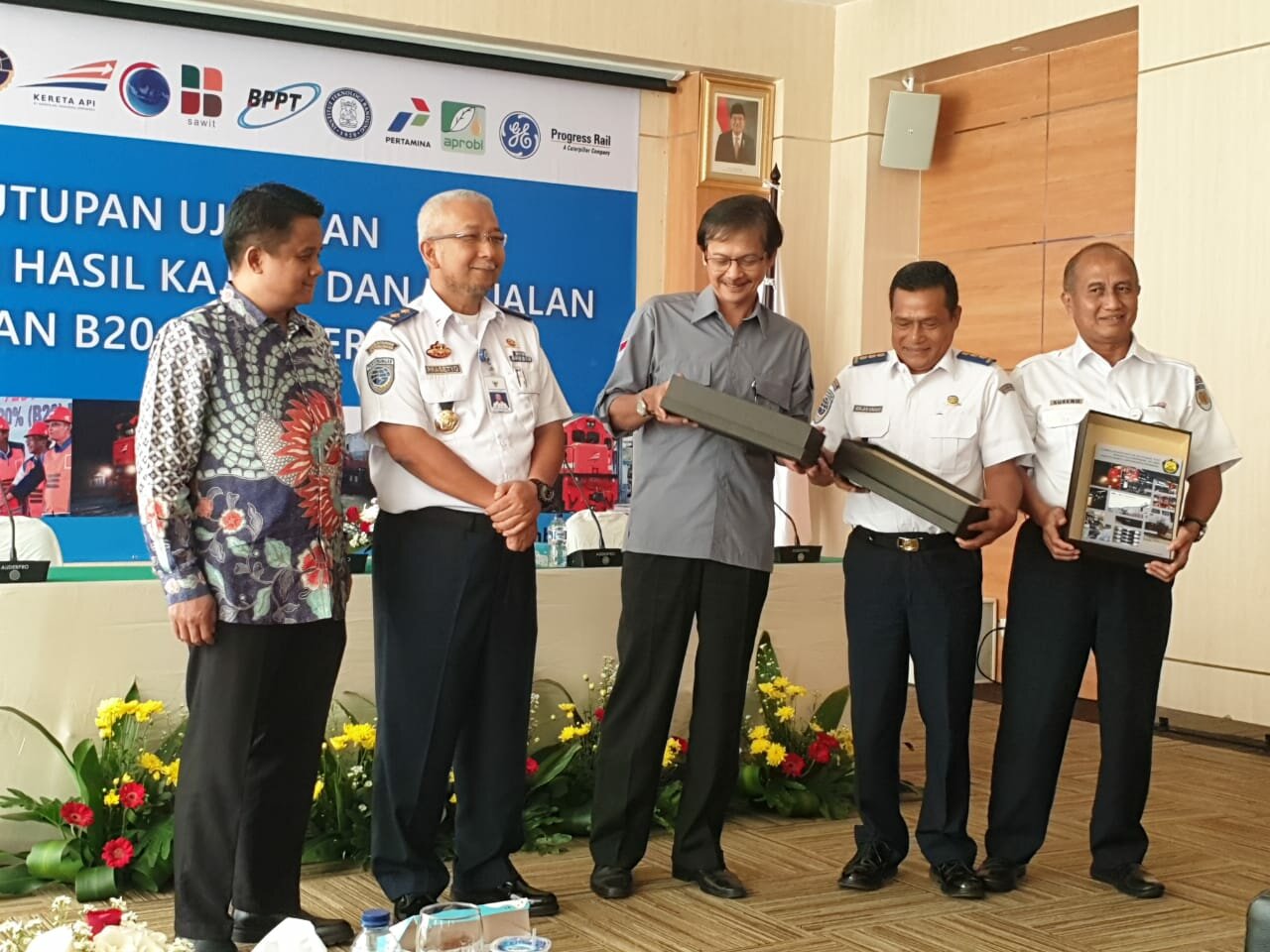 JAKARTA--Indonesian government has completed rail test of B20 performance on locomotives. It has shown that fuel with 20 percent biodiesel content was safe and found no performance change on the locomotives.
The test was formally ended and the result was submitted to Director General of New Renewable Energy and Energy Conservation of Energy and Mineral Resources Ministry Rida Mulyana, in Jakarta, Thursday (20/12/2018).
Attendees at the occasion included Director of Finance, General Affairs, Compliance and Risk Management of the Indonesian Oil Palm Estate Fund (BPDPKS) Catur Ariyanto Widodo; BPDPKS Director of Fund Disbursement Edi Wibowo, officials from Ministry of Transportation, officials from PT Kereta Api Indonesia (Persero), as well as officials from other institutions.
"I'm not surprised at the result. We've predicted it. When we conducted road test on more complicated engines, the result was good. No wonder it showed the same result on locomotive engines which, in fact, have better durability," Rida Mulyana said.
The rail test was carried out for six months from February to August 2018 on locomotives that ran over 66 thousand kilometers (Km). The test included fuel quality, locomotive engines performance, and fuel consumption as well as test on emission, lubricant, injector material, hose, and fuel pump.
The locomotives used in the test were two CC205 (PRL/EMD) locomotives and two CC206 (GE) locomotives that carried coal trains to travel 800 km on the route of Tanjung Enim-Tiga Gajah-Tarahan.
The test involved several institutions included Ministry of Transportation, Coordinating Ministry for Maritime Affairs, PT KAI (Persero), BPDPKS, Indonesia's Technology Assessment and Application Agency (BPPT), Bandung Institute of Technology (ITB), PT Pertamina (Persero), Indonesian Biofuel Producers Association (Aprobi), and General Electric (GE). BPDPKS contributed meaningful participation to carry out the test, included funding support.
During the test, PRL/EMD locomotive consumed 2,5% more B20 than using B0, while GE locomotive consume 1,1% more than using B0. The rail test also proved that B20 was more environmentally friendly than B0. Emission test on PRL/EMD had found that NOx parameter was 10% lower than B0. In addition, the level of CO was 10% lower than B0. In GE locomotive, the level of CO was also 10% lower than B0. ***