President Urges Agricultural Development at Upstream and Downstream Level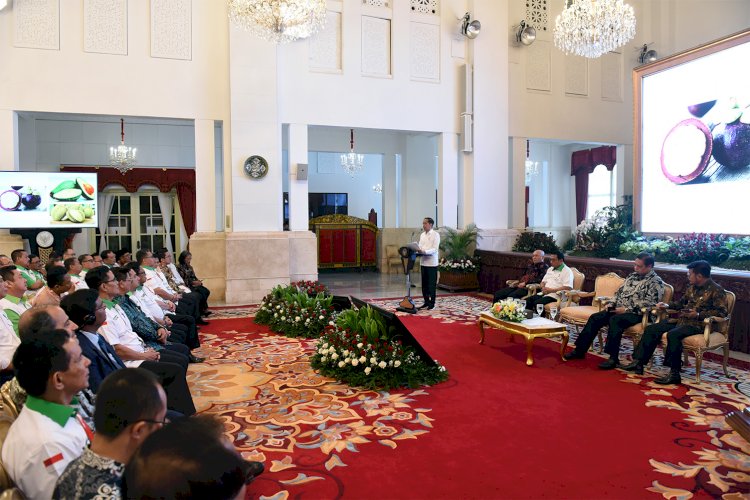 President Joko Widodo delivered a speech at the opening of the 2nd Asian Agriculture and Food Forum (ASAFF) 2020, at the Presidential Palace, Thursday (12/3/2020). (PHOTO: Setkab/Humas/Oji)
JAKARTA—President Joko Widodo encouraged to develop agriculture sector both in upstream and downstream level as this sector had contributed to economic benefits such as revenues from export and raised incomes for smallholders.
The president delivered the message as he spoke at the Opening of the 2nd Asian Agriculture and Food Forum (ASAFF) 2020, at the Presidential Palace, Thursday (12/3/2020). "Agriculture sector has also contributed to food availability which is very important for a nation. Food can can help improve health level that will boost our productivity," Jokowi said.
ASAFF is a forum for stakeholders in agriculture sector to develop Asia's agriculture and agribusiness synergy and collaboration to contribute to Asia and Global market; to establish mutual cooperation between countries in arranging the trade in agriculture sector between Asian Countries (Cross Trading); to start up a business cooperation between companies in ASEAN in developing technology and market in Asia and globally. The forum was held at the Jakarta Convention Center (JCC), 12-14 March 2020.
Speaking at the same event Chairman of Indonesia Farmers Association (HKTI), Moeldoko, said that the biggest challenge in agriculture sector was about land availability. Agriculture sector is important in Asia, both in terms of its contribution to GDP and its share of food availability. However, due to rapid growth in industrial sector and impact of by climate change, agriculture in Asia is facing loss of land problem.
The Rural Development and Food Security Forum 2019 held by Asian Development Bank (ADB) gave a clear message that agriculture sector had lost 44 percent of its land. Moeldoko said it was a threat to food production in Asia.
ADB indicated that about 822 million people in the world suffered from hunger and about 517 people (62,89%) are in Asia Pacific. With all this, ADB recognizes sustainable food security as a crucial element of its seven operational plans to be achieved by 2030 that is in line with the 17 Sustainable Development Goals (SDGs).
According to The Statistics Indonesia (BPS), Moeldoko said, agriculture land in Indonesia has significantly decreased by almost 120 thousand hectares every year. Apart from land loss, agriculture in Indonesia is also facing at least five other problems. First, farmland ownership that is only 0.2 hectares and damaged farmland. Second, inadequate agricultural capital. Third, poor farm management practices. Fourth, lack of technology and innovation management. Fifth, post-harvest management. **