Oil Palm Plantations Improve Quality Through Replanting, not Expansion
JAKARTA—The government of Indonesia has been introducing oil palm replanting program for smallholder farmers (widely known as PSR) to improve productivity so that the quality of plantations can be increased without expansion planting area. In that case, allegations that link palm oil with the destruction of rainforests turn out to be false.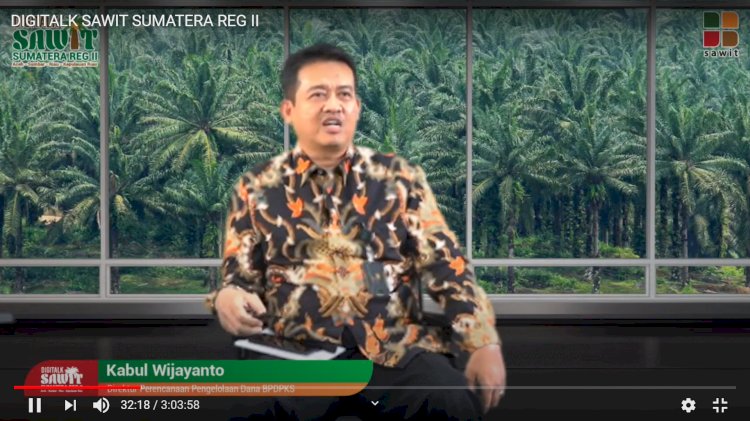 Kabul Wijayanto, BPDPKS Director of Planning and Fund Management
Director of Planning and Fund Management of the Indonesia Oil Palm Plantations Fund Management Agency (BPDPKS) Kabul Wijayanto explained the facts at DigiTalk Sawit Sumatera Regional II, an online talk show organized by BPDPKS in collaboration with Warta Ekonomi, Monday (13/7/2020).
"Currently, there's no more forest converted into oil palm planting area. BPDPKS was established to boost productivity of the plantations. We increase the productivity instead of expanding planting area," Kabul said.
In other words, BPDPKS is working hard to optimize existing plantations. BPDPKS implement programs to develop the industry and at the same time improve farmers standard of living. "We also encourage farmers to adopt good agricultural practices and help them to earn sustainable palm oil certification."
Palm oil has become strategic commodity for Indonesia as it has contributed to economic benefits such as economy, social, and ecology. The industry supports millions of jobs and opportunities for rural farmers.
More than 16.2 million workers make a living from palm oil where 4.2 million of whom are direct labours and 12 million are indirect labours. Also, there are more than 2.4 million smallholders operate oil palm plantations.
The industry has also generated on average of US$22 million in foreign exchange from palm oil exports since 2017. Its contribution accounts for around 13.5%-14% of total non oil and gas export. ***