Learning form Italian Success in Developing Electricity with CPO
CRUDE Palm Oil (CPO) is known to be the most widely-used vegetable oil in the world.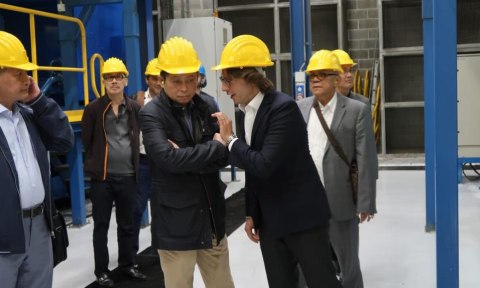 CRUDE Palm Oil (CPO) is known to be the most widely-used vegetable oil in the world. As a source of energy, it is not only used for fuel on transportation vehicles, but also on power plant to produce electricity.
PT PLN (Persero) for instance, is attempting to use palm oil-based green diesel or CPO on their diesel-fueled power plant. Moreover, Ignasius Jonan, Minister of Energy and Mineral Resources has demanded PLN to replace diesel fuel with CPO on at least 1.800 MW power plant.
The use of renewable energy such as CPO on power plants has been proven to be effective and give satisfactory result. In some respect, power plant operated by FRI-RL Acerra in Italy can be recognized as a good example of how CPO can be used for generating electricity.
In his visit to Italy, Thursday (8/11/2018), Jonan made a visit to see the CPO-fueled power plant. FRI-EL Acerra power plant located in the outskirts of Napoli and has been operating since 2008.
Since 2011, 50% of its shares are owned by Sinar Mas Agribusiness and Food, an Indonesian palm oil company which also operates CPO-fueled power plants in the country. For almost two hours, Jonan and delegation have witnessed the power plant operation.
The delegation included officials from Ministry of Energy and Mineral Resources, the Indonesian Special Taskforce for Upstream Oil and Gas Business Activities (SKK Migas), Indonesian Ambassador for Italy Esty Andayani, directors of PLN, directors of Pertamina, businesspeople in palm oil and energy sectors such as Sinar Mas Group, Wilmar, and Triputra. They were welcomed by Director of Orange Capital/Sinar Mas Cristian Banfi, FRI-EL Acerra Power Plant Manager Giuseppe Augello, and Chief Financial Officer of Fri-El Liquid Biomass S.p.A, Paolo Giardino.
Jonan and the delegations were informed that in 2017, about 34% of electricity supply in Italy was covered by renewable energy. Italy is planning to be the third largest bioenergy user for power plant in European Union by 2020. This country was also targeting to cover 55% of its electricity need by renewable energy by 2030. To meet the target, Italian government has been implementing various incentives scheme for electricity producers.
The government also gives priority to them to sell their electricity product for national demand. "In that case, there's no risk we can't sell our outputs," Cristian Banfi said.
Italy has around 300 biofuel power plants with 1 Giga Watt in capacity. Power plant run by FRI-EL Acerra is the biggest liquid biofuel power plant in Italy, and in some respect it is the biggest of the kind in the world. It has 74,8 MW in capacity and produces 600 MW electricity per year, which is enough to supply to 40 thousand household consumers. Its operation need 125 thousand tons every year in peak load. All CPO need is supplied by Sinar Mas Agribusiness and Food imported directly from Indonesia. *** (Sumber: Kumparan)