Impact of EU Policy on Indonesian Palm Oil
Negotiators from the European Commission, the Parliament and the Council reached a late on June 14 for an ambitious political agreement on increasing renewable energy use in Europe.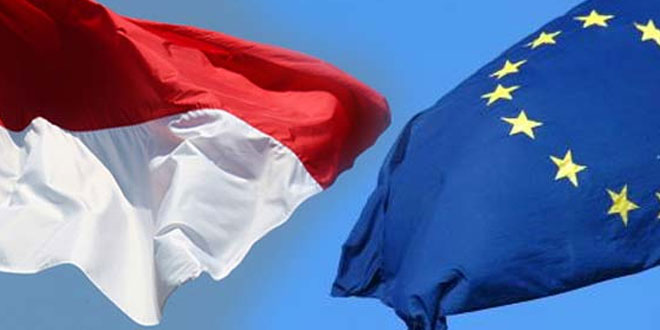 Negotiators from the European Commission, the Parliament and the Council reached a late on June 14 for an ambitious political agreement on increasing renewable energy use in Europe.
The new regulatory framework includes a binding renewable energy target for the EU of at least 32% by 2030 against 27% so far, and maybe higher after a 2023 review. The biofuels measures are part of a renewable energy directive, which also included a new overall target.
In 2030 a 32% share of the EU`s energy must be from renewable sources. The deal reached on June 14 means that two out of the eight legislative proposals in the Clean Energy for All Europeans package, which was adopted by the European Commission on November 30, 2016, have been already agreed by the co-legislators.
The text that has been agreed foresees that the contribution of certain categories of biofuels, (bioliquids and biomass fuels, namely those with high indirect land-use change (ILUC) risk and from food or feed crops for which a significant expansion of the production area into land with high carbon stock is observed), will be limited to the 2019 consumption levels. In order to reach the EU target, contributions from such biofuels will be gradually reduced until 2030.
Removed not Delayed
This new policy means EU market remains open to palm oil imports from Indonesia. The EU is Indonesia`s second largest export market for palm oil, and EU imports had increased significantly in 2017, by 28%.
For Indonesia the new EU policy would have a big impact. Indonesian Palm Oil Association (Gapki) stated that there should be no ban at all. Extending it to 2030 only means the ban is delayed not removed. The proposed EU ban on palm oil biofuels, under the Renewable Energy Directive, is discriminatory and must be removed.
According to the Executive Director of Gapki, Danang Girindrawardana, rapeseed oil or soybean oil use 4-10 times more forest land than palm oil, but Eropean doesn't treat them as badly as palm oil. Hence Gapki encourages opening new market rather than depending on EU. This can be done by maximizing export to non-traditional markets such as Pakistan, Bangladesh, or other African countries. "I don't want oil palm farmers and workers depend their livelihoods on other country," Danang said, as quoted by CNBC Indonesia (19/6/2018).
Gapki admits that governments works hard to fight the discrimination. 'I've seen the government working hard fighting against the EU discrimination on palm oil," Danang stated.
Master Parulian Tumanggor, the Chairman of Indonesian Biofuel Producer Association (Aprobi), also praised what the government did. "First of all, we would like to convey our highest praise and thanks for the President and his cabinet for lobbying and opposing the discrimination of oil palm-based biofuels in Europe," Tumanggor said, as quoted by Sawit.com.
Tumanggor said Indonesia still has 12 years to export palm oil-based product to Europe. "It is a good time for us to improve in the upstream and downstream sectors in order to reach sustainable palm industry."
Based on Gapkis's data, during January-April 2018, the palm oil and palm kernel oil exports volume to EU reached 1.58 million tonnes or 16.3% of 9.72 million tonnes of total exports value.
The EU ambassador for Indonesia, Vincent Guerend, guaranteed that RED II text will not single out, nor ban palm oil. The EU is and remains the most open market for Indonesian palm oil.
Earlier, the government has demanded the industry to open new markets and increase biodiesel usage domestically. The Coordinating Minister of Economy, Darmin Nasution, suggested that not only opening new markets, increasing biodiesel usage could also resolve the international market problems and it will give big benefits to the palm farmers because more usage means the price will also stay stable. "We have to be able to combine, find new markets, and increase local usage of biodiesel," Darmin said.
The Minister of Trade, Enggartiasto Lukita, also encourages finding new markets to countries such as Pakistan and Bangladesh. "What we need now is business matching," Enggar said. ***