Supported by BPDPKS, Researchers from UNS Develop Gasification of Palm Kernel Shells
Researchers from Universitas Sebelas Maret, Surakarta (UNS) have successfully developed and proven reliability of gasification technology of Palm Kernel Shell (PKS) in the production of hot-mixed asphalt.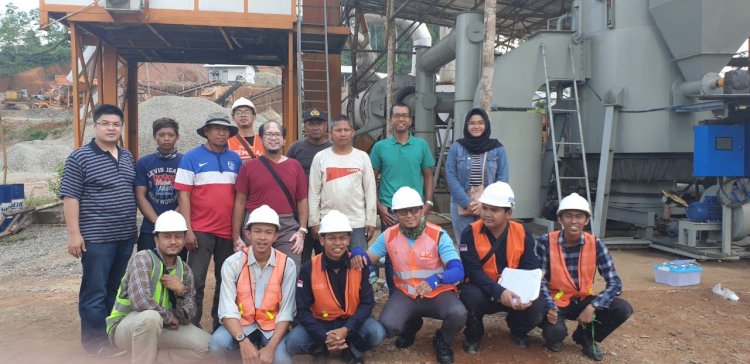 JAKARTA--The acceleration of highway infrastructure development program, as one of the important factors of economic growth, has directly resulted in increase of demand for hot-mixed asphalt as a components of highway construction. Production of hot-mixed asphalt in an industrial Asphalt Mixing Plant (AMP) requires energy for aggregate heating and asphalt before the mixing process.
Letter of Director General of Highways at the Ministry of Public Works and Public Housing (PUPR) No. 10/SE/M/2011, mandates that the energy requirement must be supplied from the heat generated from burnt fuels, natural gas or gas gasification of coal. On the other hand, the Government of the Republic of Indonesia has issued government regulation No. 79/2014 concerning the National Energy Policy allowing an increase in new and renewable energy consumption.
Funded by BPDPKS under Grant Riset Sawit scheme, researchers from UNS has successfully developed and and proven reliability of gasification technology of Palm Kernel Shell (PKS) in the production of Hot-mixed Asphalt. The researchers are Dr. Sunu H Pranolo, Dr. Joko Waluyo, Ir. Ary Setyawan, Ph.D., and Dr. Prabang Setyono. They collaborated with PT Bara Energi Biomas that serves as factory partner.
PKS is a by-product of the palm oil industry but is fast becoming an important source of feedstock for biomass energy generation. Since Indonesia is the world's largest palm oil producers, PKS are largely available in the country, especially in Sumatera and Kalimantan islands.
Production of a ton of hot-mixed asphalt requires about 30 – 40 kg of PKS. The study on environmental impact using the Life Cycle Analysis method has also demonstrated that the use of PKS (as carbon-neutral biomass) through gasification technology is able to decrease up to 40% of CO2-equivalent emissions, compared to the use of other fossil-based fuels.
Economics analysis has also shown that adopting the technology may reduce up to 75% cost of fuel consumption. Compared with use of fossil-based fuels, the total cost production of using gasification technology remains lower, even though other costs are needed for initial instalment of gasification equipment, handling the PKS, as well as cost of labour.
The results of this research may serve as scientific consideration for ratification and implementation of policies adopted by PUPR concerning use of gas generated from PKS gasification as a source of aggregate heating energy in the production chain of hot-mixed asphalt. ***