There is a growing awareness of the importance of palm oil products in Europe, despite the stigma associated with the products. Palm oil industries in Europe have reaffirmed their commitment to use sustainable palm oil products and called for action to encourage sustainable practices.
The recent European Palm Oil Conference (EPOC) 2018 in Madrid, Spain showed that European palm oil industry is ready to make the switch and lead sustainable palm oil market transformation in Europe. Delegates in the room called for action and reviewed the potential of using a joint communication campaign to encourage sustainable practices.
Indonesian speakers at the conference were Trade Minister Enggartiasto Lukita, Ambassador of the Republic of Indonesia to Germany Arif Havas Oegroseno, Head of District Musi Banyuasin, South Sumatera Dodi Reza Alex who is also Chairman of Sustainable Districts Platform (Lingkar Temu Kabupaten Lestari), and Sustainability Analyst at Wilmar Europe Gersen Sumardi. Attendees at the conference included officials from the Indonesian Oil Palm Estate Fund (BPDPKS).
"Our 2020 goal for 100% sustainable palm oil used in food in Europe is still in sight, but everybody has to put all hands on deck – time is short. We urge NGOs to take a cooperative stance to empower people that do the work on the ground and make the change possible," Frans Claassen, chair of the European Palm Oil Alliance (EPOA) said at the conference, (5/10/2018).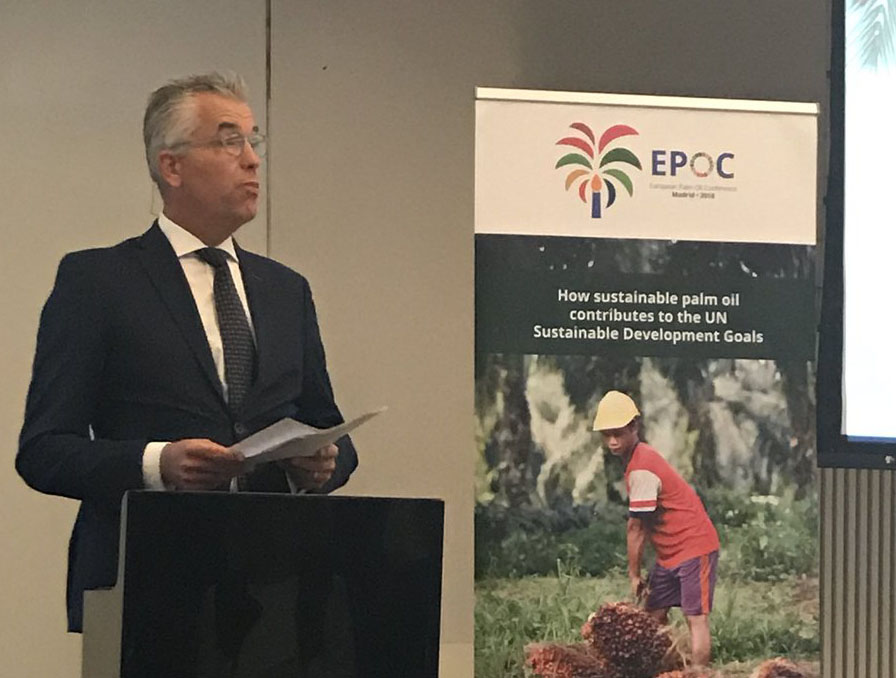 Trade Minister Enggartiasto also voiced same concern, asked Europe to acknowledge the benefits of palm oil and its contribution to the United Nation Sustainable Development Goals (UN SDGs). He also called for more cooperation to face issues related to palm oil.
He told European community that palm oil is very important product for Indonesia. "It generates more than 4.5 million jobs, provides livelihoods for more than 21 million people and has helped more than 10 million people out of poverty," he said.
Producers and Consumers Actions
European market remains open to palm oil. Europe is the second biggest importer of Indonesian palm oil after India. A new monitoring report by the European Sustainable Palm Oil (ESPO) project, an initiative of MVO – The Netherlands Oils and Fats Industry and IDH, the Sustainable Trade Initiative – shows that 74% of the palm oil imported for food was certified sustainable (CSPO) in 2017.
The European food industry is using multiple strategies to ensure the palm oil they use is sustainable. As a starting point, they require better visibility on their supply chain. Almost all – (99% in 2017) – of the palm oil entering Europe is now traceable to oil mill level. 84% of all palm oil imported into Europe in 2017 is covered by company sustainability policies.
Producing countries are also stepping up their efforts. Arif Havas Oegroseno, the Indonesian Ambassador to Germany said that Indonesia is developing mandatory certification schemes called Indonesian Sustainable Palm Oil (ISPO). He also explained that the imposed moratorium on expanding palm oil plantations by the Indonesian President Joko Widodo resulted in a 60 percent decline in deforestation in 2017, an important step forward.
An effort is also needed to stop negative campaign on palm oil given the fact that it is based on falsehoods and smears. The current negative image of palm oil in food greatly hampers the transition to 100% sustainable palm oil uptake. That's why all delegates called for action and reviewed the potential of using a joint communication campaign to encourage sustainable practices. ***