JAKARTA— The Indonesia Renewable Energy Society (METI) held Indonesia EBTKE ConEx 2019, an event consisted of conference and exhibition simultaneously, where the exhibition showcased new renewable energy.
Around 80 energy companies joined the event held at Hall C, JI Expo Kemayoran Jakarta on 6-8 November 2019. Minister of Energy and Mineral Resources Arifin Tasrif who opened the event said that the ministry is mapping out sources of new renewable energy in trying to increase use of new renewable energy to 23% by 2025.
"We are identifying the potency. We have to discuss the matter further. About the capacity for instance" Arifin said, Wednesday (6/11/2019).
The first day of the event was also marked with several energy agreement signing, including agreement on financing for procurement of biodiesel for blending with diesel fuel for period of January to December 2020 between the Indonesia Oil Palm Plantation Fund Management Agency (BPDPKS) with 19 biofuel companies.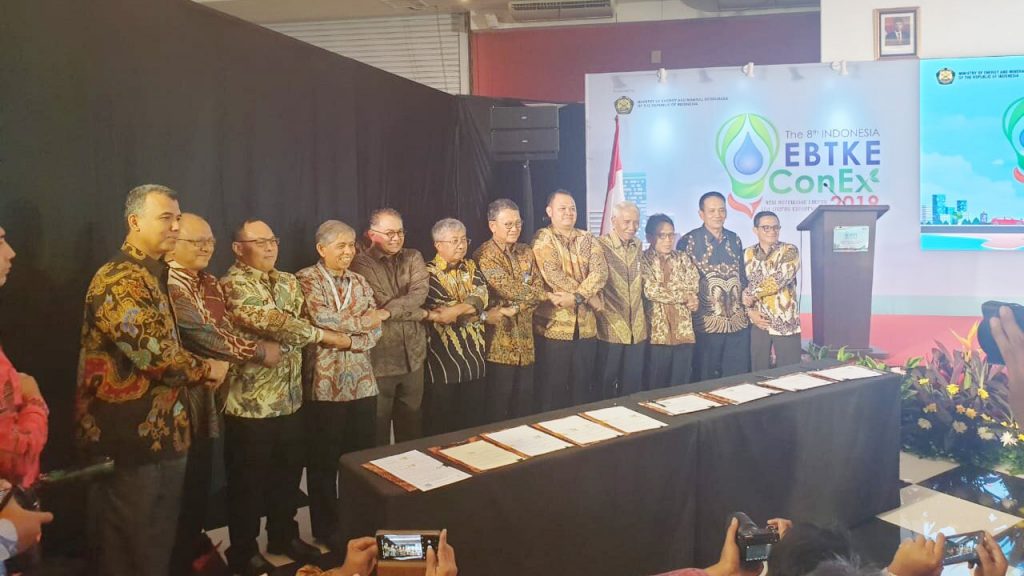 Another agreement was MoU on development of new renewable energy between METI with Syiah Kuala University, Malikul Aceh University, and Darma Persadha University. A certification agreement was also signed by The Renewable Energy Professional Certification Agency on Hydro Energy, Wind, and Bio-energy with Mataram University, two companies, and regional government of Bali.
Arifin said Indonesia has 400 gigawatt electricity power potency genereted from new renewable energy which Arifin sees as new business opportunity. "It goes without saying that implementation of Paris Agreement is also opportunity to create a more innovative business on energy," Arifin added.
Arifin considered an event like IndoEBTKE Conex a stimulus to remap national energy policy. "We can take advantage of the event to remap our energy policy. We have many energy resources to be utilized."
Arifin laid stress on the importance of setting out plans to explore the potency of new renewable energy. He expected a lot of improvement on the next Electricity Supply Business Plan (RUPTL). "I am expecting new ideas for the development of new renewable energy."
Speaking at the same event, Chairman of METI Surya expected that the exhibition will attract more investment on new renewable energy. "We are expecting the exhibition can improve investment climate and attract more investment," Surya said. *** (Source: Press Release MEMR)