Indonesia's Ministry of Agriculture has successfully developed biodiesel generated from 100% crude palm oil (B100) and it has been tested on a car. The development by agriculture research and development unit at the ministry has resulted B100 with 87% rendement.
As visited research and development unit, Thursday (21/2/2019), Agriculture Minister Amran Sulaiman said that the success has brought Indonesian dream come true to have B100 that will replace fossil-based fuels.
"Indonesian dream to create B100 from crude palm oil (CPO) has come true. This fuel which is generated from 100% CPO with 87% rendement is not yet perfect and need to be enhanced. It is not blended fuel. This B100 is Agriculture Ministry R&D innovation. Remember, this is B100, not B20 nor B30," Amran added as reported by pertanian.go.id.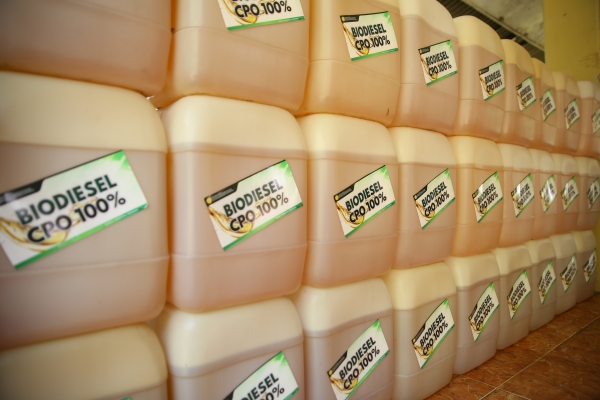 Amran explained that B100 is 40% more efficient than fossil-based fuels like diesel. A car can travel 9,4 km on a liter of fossil fuel, while using B100, a car can travel 13 km per liter.
According to Dibyo Pranowo, Ecophysiology Researcher at the R&D unit of Agriculture Ministry, the development of biodiesel from 100% CPO has passed 19 of 20 test. Another test on carbon residue is not yet carried out. "Currently we produce 2 tons B100 from a home-made biodiesel refinery. This production is optimization of processing parameters using dry oil method," Dibyo explained.
In the past month, a road test has been carried out on a Toyota Hilux car traveled 1.600 km on B100. After traveling 2.000 km, the machine will be disassembled to examine the carbon residue.
Dibyo also explained that B100 can also be generated not only from CPO but also from other vegetable oil sources like Reutealis trisperma (Blanco) or locally known as kemiri sunan, Calophyllum inophyllum L. (nyampulung), pongamia, coconut, and rubber seed. However, CPO is the best one because it is available in large quantities.
"B100 will be the newest alternative fuel for Indonesia in the near future. Agriculture Ministry is supporting innovation on this renewable fuel," Dibyo said. ***